So been meaning to finally start this blog post and have been putting it off as basically so busy with a 1 year old running around! However this is something I discuss with other friends who are Mammies and we are always sharing if we have a new ideas or dishes!
Babies and toddlers can change so much with their eating habits. I find with my daughter Aoibh who is 15 months she can go through phases! At the moment she is running around the place and full of energy so I want to make sure her dietary needs are being meet.
I hit a wall there recently in relation to ideas/ motivation etc so I bought a new Book "Annabel Karmels New Complete Baby and Toddler Meal Planner".
2 books I would highly recommend are Neven Maguires and Annabel Karmels.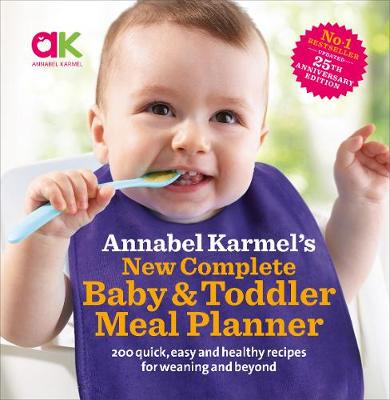 From my own personal experience I love routine but I also like variety within that routine.
A normal day would include: 
Breakfast: 8.30/ 9.00 Porridge/ Weetabix/ ready brek with normal cows milk and some stewed fruit (pear/ apple). Slice of toast with butter at weekends!
Bottle & nap (approx. 11am)
Snack: after nap at 1: yoghurt, slice of cheese broken up. Fruit; sliced apple. waffle/ scrambled egg.
Dinner: Her favourites are;
pasta with homemade tomato sauce
Chicken casserole
salmon/ fish pie/ fish fingers. Loves peppers too on the side.
Brocolli and carrots (steamed and feeds herself)
sweet potato and broccoli (loves this pureed together)
Basically anything we are having she will also have some
afternoon/ supper: Weetabix/ liga/ banana porridge
*I am keen on a mix of baby led weaning and spoon fed and its working well for us at the moment. Aoibh is little miss independent and she really likes the baby led weaning whereas I'm not as keen on the mess!!! On a serious note love seeing her enjoy her food and eating all her vegetables fills me with such happiness especially if I see her chewing on a broccoli stalk!! 🙂
The above gives further ideas for toddlers a lot of these Aoibh would have! 
Also for treat ideas;
banana muffins
Annabel's Rice Krispie Squares (will share recipe)
apple crumble/ homemade custard
rice pudding
Just some tips:
Offer plenty of water where possible
Fresh fruit and vegetables as often as possible
Use convenience products when travelling/ weekends! I love Ellas kitchen range & pip & pear
Hope this would of some help to anyone going through the same. I plan on sharing a lot more recipes from my new Annabel Karmel book that I have purchases so will keep ye posted x